Can Meditation Help Avoid Burnout?
Meditation helps nurses focus and regain control of their careers and personal lives, and many nurses experience deep relaxation when meditating. Meditation has a rich, vast history and is one way to engender a relaxation response, which can help nurses deal with their stress (Everly & Lating, 2013).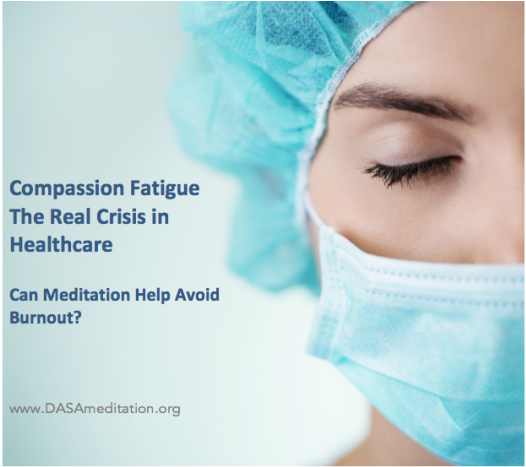 image © gpointstudio/shutterstock
Model used for illustration purposes only.
Each day in ERs across the globe, nurses, doctors, and other staff interact with patients and families under extreme stress. Patients are often facing the largest health crisis of their life, possibly even the end of life. Each patient is counting on the staff to perform at the highest level of competency, care, and compassion.
These day-to-day challenges and stressors that healthcare providers face, as they interface with patients and their loved ones, place them under inconceivable stress. Most healthcare workers will agree that each individual patient may deal with the trauma and shock of the very same diagnosis quite differently. Similarly, each medical professional may respond to each high-stress work related event in his or her own unique way. Some seemingly handle it with ease, while others continue to be deeply affected. Many hesitate to admit they are indeed under enormous stress. Signs of stress do not translate to being inadequate; instead, think of stress as our body's warning signal that we are simply out of balance.
Stress is culturally and personally defined, so what is considered stressful to one nurse may not be stressful to another (Goldsmith, 2007).
Since stress is in epidemic proportion in healthcare, we need to ask these critical questions:
What is the long-term effect of chronic exposure to high levels of stress; more specifically, what is the negative effect to one's health and well being?
Will exposure to long-term stress inhibit the ability of caregivers to interact in a positive manner with other staff, or suppress the ability to respond well to patients' physical and emotional needs?
According to the American Institute on Stress "Compassion fatigue has a more rapid onset while burnout emerges over time. Compassion Fatigue has a faster recovery (less severe, if recognized and managed early)." ​
​The first step is to accept that stress (in most cases) is cumulative. Over time, it can definitely sneak up on us. But there's hope. With daily practice, meditation can show physical improvement in the brain in as little as eight weeks, particularly in the hippocampus (the area of the brain that governs learning and memory). ​
The hippocampus is known to be critically involved in learning and memory processes (Squire, 1992), and in the modulation of emotional control (Corcoran et al., 2005; Milad et al., 2007) while the insula has been postulated to play a key role in the process of awareness (Craig, 2009).
Further studies show that
while the hippocampus grows
and literally improves the brain both structurally and functionally with sustained meditation - simultaneously, the part of the brain related to fight or flight, called the amygdala (linked to stress, fear and anxiety) can actually show a reduction in size and a correlation to reduced levels of stress. A third part of the brain TPJ (temporo parietal junction) associated with perspective, empathy and compassion can also be enhanced. Improvements in these three key areas of the brain that relate to learning and memory, stress and anxiety, empathy and compassion - should be of primary importance to those working in healthcare or as caregivers.
Learn more.
​
To sum it up - meditation has been practiced for over five thousand years in cultures throughout the world. The rich history of this graceful practice alone is impressive, and now the studies confirm it's worth. The
Mayo Clinic
recognizes meditation as a valuable method of reducing stress. With regular practice, meditation has proven to bring a sense of balance, harmony, peace and overall satisfaction in life. It gently connects the body, mind and spirit. And if you are lucky enough to be in the noble career of healthcare, it might even bring you back to that deeply satisfying place of caregiving with joy.
"We make a living by what we get, but a life by what we give." ~Winston Churchill