The gift that will last a lifetime.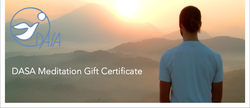 First, please use the
contact form
to check if there is a Certified DASA teacher located in your area.
---
Instructions: Once you have confirmed there is a Certified DASA Teacher in your area, pay on the payment button below, then fill out form entirely and submit. Please note, the name of purchaser on the form and the name on the credit card must match.
A
DASA Meditation Brochure
and Gift Certificate will be mailed to the address provided below. Allow 10 days for receipt.
---
Individuals must be 18 years of age or older. Discounts are available for qualifying individuals.
Learn more.
ONLINE PAYMENT FOR GIFT CERTIFICATES
Pay with an online bank account, debit or credit card, or PayPal Credit.
---
GIFT CERTIFICATE INFORMATION FORM
Once you have paid using the payment button, complete the form below. Allow 10 days for receipt.
---